BIO
STABLE
Science & Engineering
Simplifying and Standardizing Aortic Valve Repair
BioStable Science & Engineering is a cardiovascular device company focused on developing and commercializing proprietary valve repair technologies that provide an alternative to valve replacement for patients with aortic valve disease.
Read more about our company, management and mission.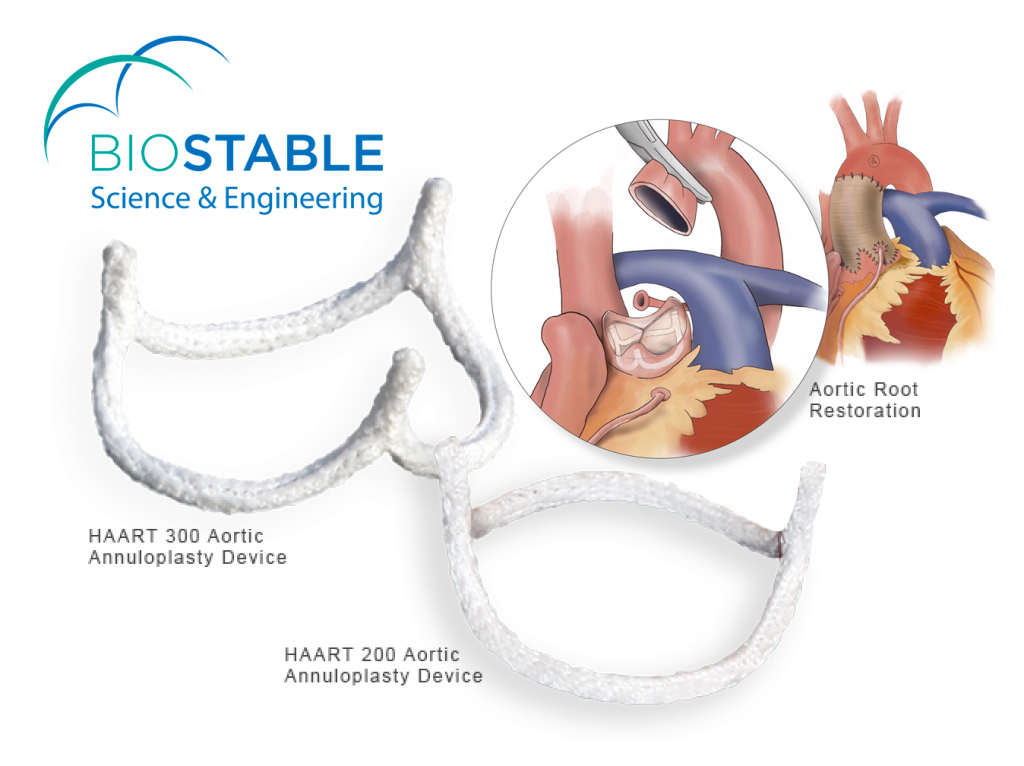 Aortic Valve Disease
"Aortic valve insufficiency is the most common valvular heart disease, affecting more than 2.5 million adults world-wide."[Read more]
HAART Aortic Valve Repair Technologies
Resize the aortic valve annulus to reduce dilatation,
Reshape the aortic valve to restore more normal, three-dimensional coaptation geometry,
Stabilize the aortic valve to reduce the risk of recurrent annular dilatation.
News and Events
News — AATS – AATS 99th Annual Meeting will be held in Toronto, Canada – May 4-7, 2019 – Booth 23… [Read more]
News — EACTS – EACTS Aortic Valve Repair Summit will be held in Brussels, Belgium – June 20-21, 2019 … [Read more]
News — WTSA – 45th Western Thoracic Surgical Association Annual Meeting will be held in Olympic Valley, CA – June 26-29, 2019.
News — EACTS – 33rd EACTS Annual Meeting will be held in Lisbon, Portugal – October 3-5, 2019 … [Read more]
News — STSA – 66th STSA Annual Meeting in Marco Island, FL – Nov 6-9, 2019 … [Read more]
Resource — Aortic valve repair for tri-leaflet aortic insufficiency associated with asymmetric aortic root aneurysms – Article from Annals of Cardiothoracic Surgery … Stavridis GT, Downey RS, Gerdisch MW, Hughes GC, Jasinski MJ, Rankin JS, Mazzitelli D, Aicher D, Fischlein T, Choi YH, Weber A, Friedrich I, Glauber M, Pfeiffer S, Miceli A, Si MS, Klokocovnik T, Wei LM, Deja MA, Badhwar V. Aortic valve repair for tri-leaflet aortic insufficiency associated with asymmetric aortic root aneurysms. Ann Cardiothorac Surg 2019;8(3):426-429. doi: 10.21037/acs.2019.04.10 … [Read more]
Article — Apr 12, 2019 (article from the Daily Journal) Heart valve surgeon providing patients with innovative options – Article by Ryan Trares, reporter for the Daily Journal. … Pagano was the patient of Dr. Marc Gerdisch, chief of cardiovascular and thoracic surgery and co-director of the Heart Valve Center at Franciscan Health Indianapolis. Through Gerdisch's leadership, the heart center has become one of the most innovative in the world, proving to be on the forefront of new ways to repair damaged heart valves to ensure patients have longer and healthier lives … [Read more]
Article — Apr 3, 2019 (article from HeartValveSurgery.com) Breakthrough Innovation: The HAART Aortic Annuloplasty Device Cleared by the FDA – Article by Adam Pick, founder of HeartValveSurgery.com. … The HAART Aortic Annuloplasty Device received clearance from the U.S. Food & Drug Administration (FDA). This is a very important development for patients who are searching for a potential long-term fix for their leaking aortic valves. The great news is that the early operative results using the HAART device have supported a global trend toward aortic valve repair … [Read more]
Video — Columbia, SC – March, 2019 (video from WIS-TV) A New Tool to Treat Aortic Valve Disease is a 'Game Changer' – First surgery in South Carolina to use FDA approved HAART 300 Aortic Annuloplasty Device … A Midlands man undergoes aortic valve repair utilizing a new surgical option, the HAART 300. Dr. Ryan Burke is the first physician in South Carolina to utilize this new technology that simplifies and standardizes the aortic valve repair operation. [Read more]
Article — Feb 11, 2019 (article from CardioVascular News Issue 52 – Feb 2019) Early results for HAART 200 and HAART 300 Aortic Annuloplasty Devices are encouraging – The Duke Children's Pediatric & Congenital Heart Center (Duke University Medical Center, Durham, USA) treats the entire spectrum of patients with complex congenital heart disease. In this article, Cardiovascular News focuses on how the centre manages patients with congenital aortic valve disease—specifically, their use of the HAART 200 and HAART 300 (both BioStable) internal aortic valve annuloplasty rings." … [Read more]
Video — San Antonio, TX – July 12, 2018 (video from KENS-TV) Brand new heart surgery saves San Antonio teen's life – First surgery in Texas to receive FDA approved HAART 300 Aortic Annuloplasty Device … A 15-year-old San Antonio boy who has a heart defect is getting a second chance at life thanks to a brand new procedure he was the first to receive. [Read more]
Article — Chicago, IL – March 29, 2018 (article from Northwestern Medicine) Northwestern Memorial Hospital Surgeon First in Illinois to Repair Aortic Valve with Novel Ring – HAART 300 Aortic Annuloplasty Device Duplicates the Heart's Anatomy … "Repairing a valve is always better than replacing a valve, and until now we have never had an aortic annuloplasty device for repair," said Dr. Malaisrie, who is also an associate professor of surgery – cardiac surgery at Northwestern University Feinberg School of Medicine. "There's a bright future for aortic valve repair, and this device provides another opportunity for us to do so with better and longer-lasting repairs." … [Read more]
Press Release — Austin, TX – May 3, 2019 — BioStable Science & Engineering Surpasses 500 Patients Treated Worldwide with the HAART Devices
BioStable Science & Engineering, a medical technology company focused on products for aortic valve repair for the treatment of aortic insufficiency, today announced that over 500 patients worldwide … [Read more]
Press Release — Austin, TX – Sept 26, 2017 — BioStable Science & Engineering announces the First Commercial Use of the HAART 200 Aortic Annuloplasty Device
The first commercial use of the HAART 200 Aortic Annuloplasty Device in the U.S. by doctors at the West Virginia University (WVU) Heart and Vascular Institute in Morgantown, West Virginia … [Read more]
Press Release — Austin, TX – Aug 15, 2017 — BioStable Science & Engineering announces FDA clearance for the HAART 200 Aortic Annuloplasty Device
The HAART 200 Aortic Annuloplasty Device is the first and only annuloplasty device designed specifically for bicuspid aortic valve repair … [Read more]