Visit us at the 55th STS Annual Meeting from January 27 – 29, 2019 in San Diego, CA at booth 1000.
January 28th – 4:00 PM – Congenital: Adult Congenital
Repair of Variant Unicuspid Aortic Valve Defect Using Geometric Ring Annuloplasty – Dr. Ming Sing SI, University of Michigan, Ann Arbor, Michigan
January 29th – 2:30PM – Adult Cardiac: Aortic Valve/Novel Technologies
Repair of Aortic Valve Insufficiency With Associated Ascending Aortic Aneurysm Using Geometric Ring Annuloplasty – Dr. Marc W. Gerdisch, Franciscan St. Francis Health, Indianapolis, Indiana
STS University
Course 5: Aortic Root Enlargement Procedures and Aortic Valve Leaflet Reconstruction – S.Adil Husain, Salt Lake City, UT, and Joseph W. Turek, Durham, NC
[ Read more about the STS University ]
STS Scientific Posters
Bicuspid Aortic Valve Repair using Geometric Ring Annuloplasty: Two-Year Clinical Trial Results – Dr. J. Scott Rankin, West Virginia University, Morgantown
Minimally Invasive Bicuspid Aortic Valve Repair Using Geometric Ring Annuloplasty – Dr. Vinay Badhwar, West Virginia University, Morgantown
For more information, please visit the Society of Thoracic Surgeons: STS 2019 55th Annual Meeting webpage.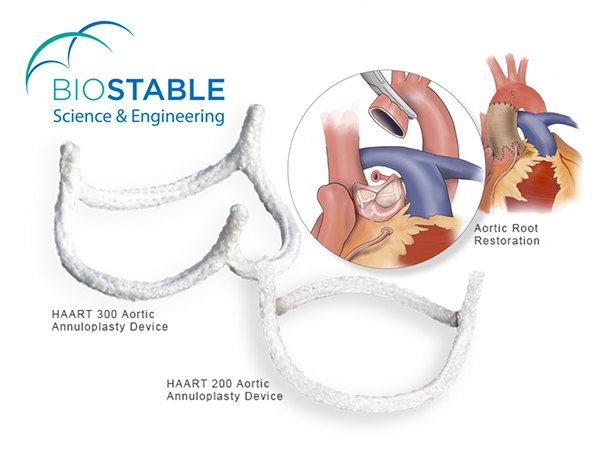 ---
About BioStable Science & Engineering
BioStable Science & Engineering is a cardiovascular device company focused on developing and commercializing proprietary valve repair technologies that provide an alternative to valve replacement for patients with aortic valve disease. The company's HAART Aortic Repair Technologies are designed to simplify and standardize aortic valve repair, enabling surgeons to offer the recognized clinical benefits of valve repair to patients undergoing surgical correction of aortic insufficiency or aortic root aneurysm.
For more information contact:
John Wheeler
President & CEO
[email protected]
512-386-1996 x153